Aviation Psychology and Applied Human Factors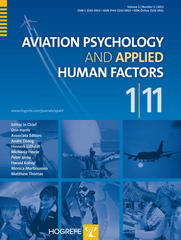 The Aviation Psychology and Applied Human Factors Journal is the joint journal of AAvPA and the European Association for Aviation Psychology (EAAP). The journal is published by Hogrefe
Editor in Chief
Julia Behrend () - France
Editor
Matthew Thomas () - Australia
Associate Editors
Robert Bor - United Kingdom
Mickaël Causse - France
Ioana Koglbauer - Austria
Harald Kolrep - Germany
Monica Martinussen - Norway
Michaela Schwarz - Austria
Aim and Scope
Aviation Psychology and Applied Human Factors (APAHF) publishes innovative, original, high-quality applied research covering all aspects of the aerospace domain. In order to make the journal accessible to both practitioners and scientific researchers, the contents are broadly divided into original scientific research articles and papers for practitioners.
The fully peer-reviewed Original Articles cover a variety of methodological approaches, ranging from experimental surveys to ethnographic and observational research, from those psychological and human factors disciplines relevant to the field, including social psychology, cognitive psychology, and ergonomics. High-quality critical review articles and meta-analyses cover particular topics of current scientific interest. Shorter studies are published as Research Notes.

APAHF in Practice consists of less technically written, but still fully peer-reviewed articles covering a wide range of topics, such as comments on incidents and accidents, innovative applications of aviation psychology, and reviews of best practices in industry.
Finally, the journal's News and Announcements section features past and upcoming events around the world, association news, interviews, and similar.
Submission
Submissions for any section of APAHF must be sent to the .
Submission Letter
Manuscripts must be accompanied by a formal letter of submission addressed to the Editor in Chief confirming that:
(a) the manuscript has not been published previously (and is not under consideration for another journal);
(b) the manuscript is being submitted with the agreement of all authors; and
(c) all participants and their data were treated in accordance with appropriate ethical guidelines.
Copyright
Submission of manuscripts is taken to imply that neither the manuscript nor any component of it has already been published or is currently under consideration by another journal. Read more
Enquiries and Help
Technical queries should go to .
Informal enquiries concerning the content and format of papers should be addressed to .
Online access to Aviation Psychology and Applied Human Factors
Online access – registration
The journal is now hosted on a new platform. Please follow the instructions to access the e-journal.
1.
Please go to: econtent.hogrefe.com/
(You can switch the language into English on the top right)
2.
Please register as a new user
3.
You will then receive a notification e-mail to
your e-mail address stated in the registration form. Please send us an e-mail
to
with the following details: - username (e-mail address) – AAvPA membership number
- title of subscribed journal Our customer service will then activate your
individual online access.