AAvPA brand NEW!
Date: 27 August 2010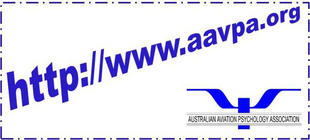 As of 1 September 2010 the Australian Aviation Psychology Association (AAvPA) presents itself in a new look.
The AAvPA team together with Chirp Internet have been working over the past couple of months to design a new website to faciliate expanding our members' contribution to the safety and efficiency of the aviation industry.
The new website now features aviation news, events, and VIP links accessible for all interested. The new member's area (MyAAvPA) is exclusive to AAvPA members providing access to latest research and publications as well as downloads of conference proceedings, papers and other shared publications.
My AAvPA is still under development as members start to use the website. Features foreseen in the future include a members' directory, discussion blogs and a photo wall. All ideas and feedback welcome!