AAvPA 2005: Emerging Approaches in Safety Analysis
Date: 27 October 2005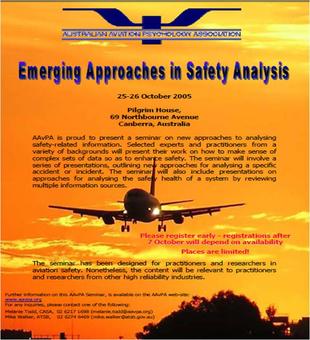 AAvPA is proud to present a seminar on new approaches to analysing safety-related information. Selected experts and practitioners from a variety of backgrounds will present their work on how to make sense of complex sets of data so as to enhance safety.
Keynote Speaker: Peter Ladkin Ph.D.
Peter is a Professor of Computer Networks and Distributed Systems in the Faculty of Technology at the University of Bielefeld. He is also founder and a director of Causalis Limited, as well as founding President of the German Chapter of the System Safety Society.
Peter Ladkin and Causalis Limited specialise in the analysis of safety-related and safetycritical complex heterogeneous systems and their behaviour, including the analysis of accidents.
He developed Why-Because Analysis (WBA) for the causal analysis of accidents and incidents in 1996-8 with the assistance of students. WBA has been adopted as a company standard by Siemens Transportation Systems Rail Automation Division, the world market-leader in railway signalling systems, as well as by Siemens Transportation Systems Mass Transit, a leading supplier of trams and tramway systems.
File downloads
Related link