8th AAvPA Symposium (2008): Making it happen
Date: 12 April 2008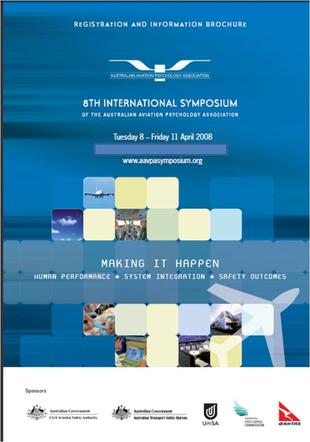 8-11 April 2008 Novotel Brigton Beach (Sydney)
8th International Symposium Making it Happen - Human Performance - System Integration - Safety Outcomes
Keynote speakers
Pat Croskerry
Erik Hollnagel
Ed Hutchins.
Along side these and our other international
speakers, this years Symposium showcased the best of the local initiatives in Australia, where we are proud to continue to set the standards for applications of Human Factors towards the enhancement of safety in high-risk industries.
Other highlights of the program included three pre-symposium workshops that provided an pportunity for skill development in applied Human Factors,as well as an exciting social program.
Highlights of the social program included a sunset Welcome Reception overlooking Brighton beach and the Gala Symposium Dinner, this year conveniently held within the Symposium venue. These events,as always, provided a balance to the scientific program and an opportunity to continue the debate!